what / therapy-spectrum
Stroke: New and stimulating perspectives
Experience a real perspective
Read more
New and stimulating perspectives
At Naturheilzentrum Bottrop, pioneering work is turning traditional knowledge into the natural medicine of the future. Movement rather than stagnation, flow instead of resignation, that is what nabo stands for, as a real alternative – with passionate commitment and comprehensive expertise. Feeling new vitality after a stroke, finding confidence and new courage: Farid Zitoun and Christian Rüger, together with a crew of interdisciplinary specialists, have created not only a refuge for many stroke patients but also for People with cardiovascular diseases, far beyond Germany's borders.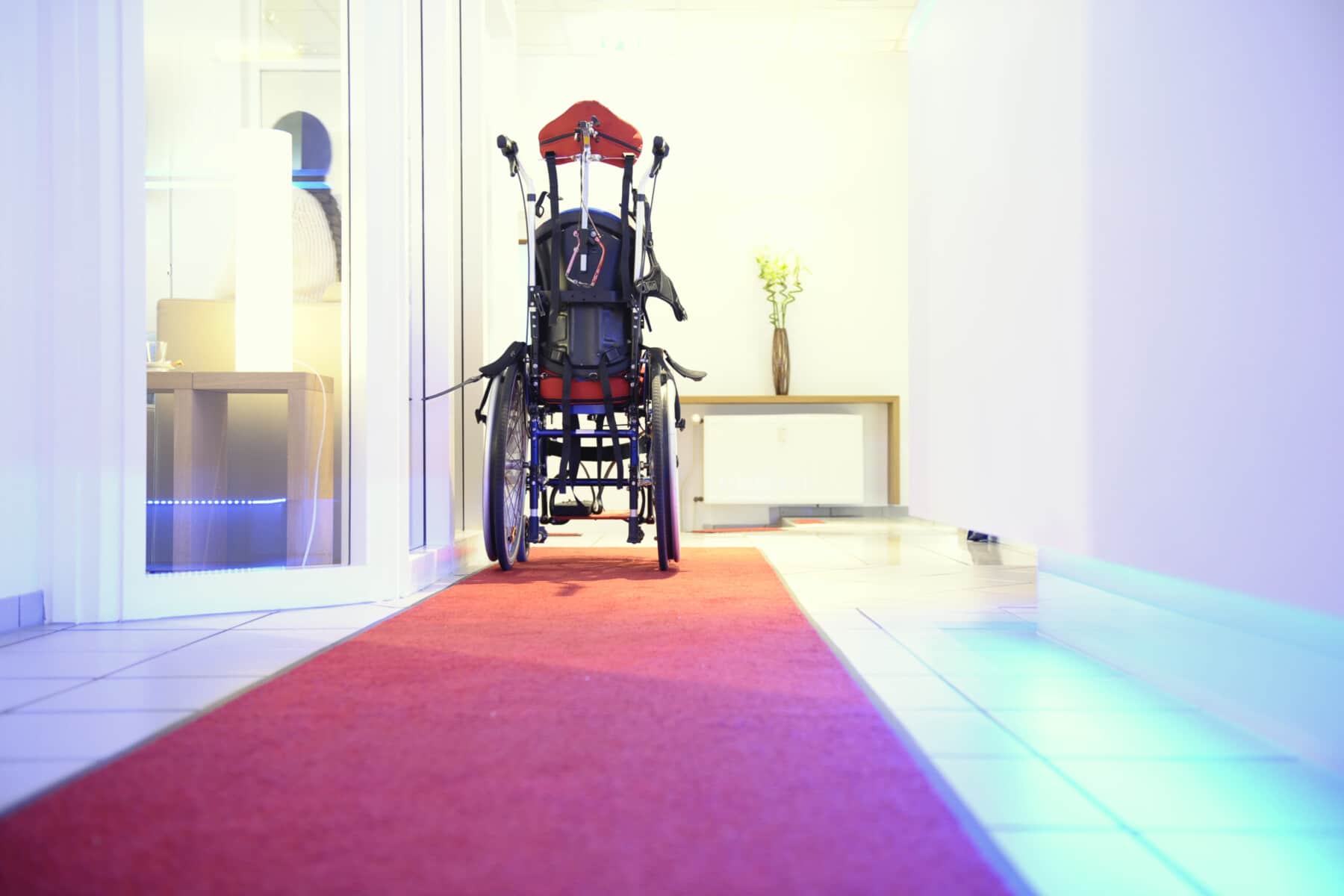 Custom-made with a sense of proportion and care
Custom-made therapies and treatments revolve around the needs of the People in the center. Our specialists investigate the causes of the symptoms, based on a technically sound and comprehensive knowledge which was acquired in the country of origin of the respective naturopathic treatment and continuously deepened.
nabo considers natural healing methods and conventional medicine to be a dynamic process. Starting with a detailed holistic diagnosis and conscientious research into the cause of an illness, the respective team of experts creates a profound individual treatment package for each patient. People and the latest computer-controlled technology are a powerful combination for meaningful results. The smallest pinpricks for new perspectives. Concepts and systems, implemented with great perfection.
New life – exploiting potential
The philosophy of nabo includes an unconditional commitment to Humanity, tradition and modernity, based on competence. The staff of the unique health institute work with love, passion and the absolute will to push boundaries every day.
The crew of therapists in Bottrop take pleasure in "small and great miracles" again and again. And for good reason", says Farid Zitoun. Not only the body, but also the healthy spirit is equally strengthened at nabo. Many patients regain courage and optimism. This also has a direct effect on the mood and well-being of patient's family members, particular motivation, every day.
The goal at Naturheilzentrum Bottrop is to strengthen existing regenerative mechanisms of the Human body, thus giving it the opportunity to cure itself, with special assistance. nabo identifies possible potential and activates it or, put simply: the center helps People help themselves.
nabo combines specific acupuncture systems, in particular for stroke patients – also based on years of experience – with homeopathic or, alternatively, pure herbal formulations. The body's response mechanisms can be activated with targeted stimulation therapy. In naturopathy, this includes all forms of treatment which supply the body with stimulating signals.
Nabomade® individual concept
With the Nabomed® concept, Farid Zitoun and Christian Rüger have developed their own, holistic method. It is based on the classical acupuncture of traditional Chinese medicine (TCM), but it differs significantly in its indication and application. Beyond the well-known local healing impulses, pinpricks are placed at precisely-defined, specific points in order to release hormones and transmitters. They are responsible for cell regeneration, blood circulation regulation or pain relief. This process is made possible through the sensory transmission of stimuli and the release of neurotransmitter substances (neuropeptides).
This has important consequences for the therapy and treatment of injuries to the central nervous system and to the brain. By stimulating the neural pathways, Naturheilzentrum Bottrop, with its team of specialists, strives to stimulate the new formation and growth of nerve cells and their nerve endings. Because research has long recognized that nerve cells can form anew. Farid Zitoun explains that thus regeneration developments for the peripheral nervous system from the spinal cord to the effector organ are quite possible. Targeted stimuli, as healing impulses, form a promising basis, which makes the targeted exploitation of the body's existing resources possible.
When therapeutic and conventional medical measures are largely exhausted and regeneration could pass into stagnation, that's where the Nabomed® concept comes in and is, at best, more than an alternative: a useful complement to traditional medicine, because traditional medicine and naturopathy are not contradictory. Quite the contrary, the combination of the two disciplines offers patients maximum competence and benefits.