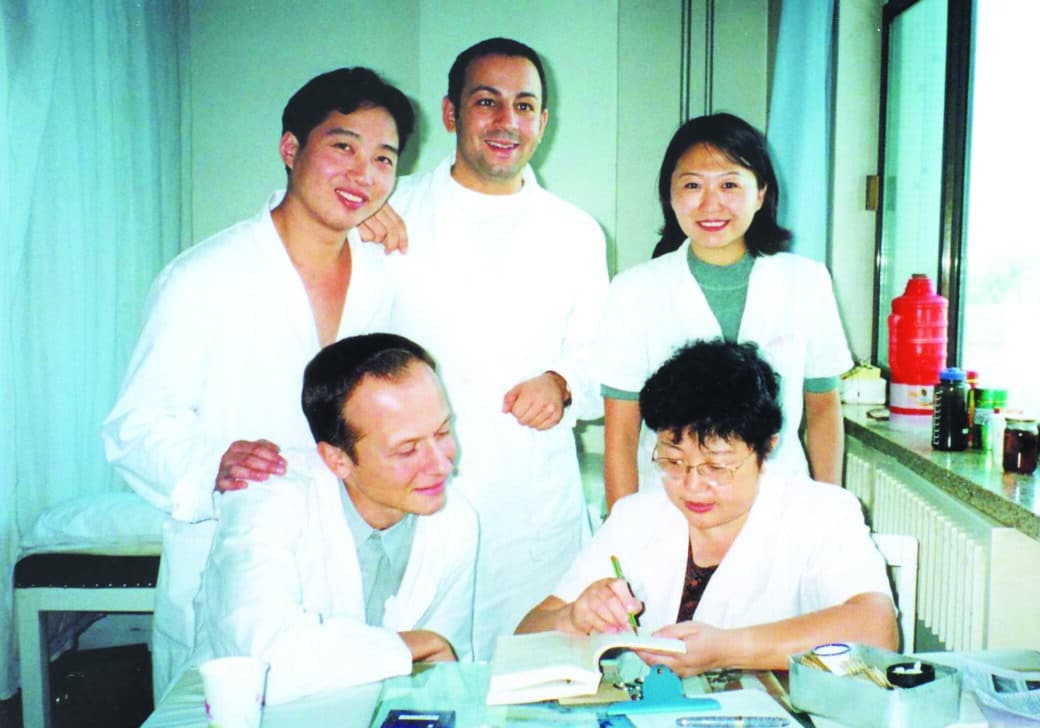 who / the-nabo
More than just a success story: The Naturheilzentrum Bottrop
Over 3 decades of People for People
We trace the history that nabo has written from the outset
In a world that is constantly changing, consistency is a benchmark for security that gives People support even in fast-moving times. More than 25 years after its foundation, the Naturheilzentrum Bottrop (nabo) is committed to People.
What the two founders Farid Zitoun and Christian Rüger have built up with their team is now more than just a practice for naturopathy. nabo is a meeting place and at the same time a central contact point for knowledge and expertise about complementary medical treatment methods in the Ruhr metropolitan area.
This is also the result of hard work and is in the tradition of the holistic approach for the modern naturopathic practice, which always puts People first here – before, during and after the treatment stay.
With
People

for

People

Without the results of their profession or feedback from patients and the motivation provided by followers and fans, the Naturheilzentrum Bottrop would certainly not be the institution it now stands for a quarter of a century later, as alternative practitioner Farid Zitoun declares:

"We can do our part to help People effectively – providing balanced treatment, supporting our patients beyond medical issues and providing everyday knowledge about health and lifestyle. But without corresponding results on the other hand, we might now be at a completely different point. That makes us grateful and rather humble as well."

This is certainly also helped by the fact that nabo now attracts People to Bottrop not only from all over Germany, but also beyond the borders of other European countries:

"This tremendous trust is simultaneously an obligation and praise for us," says Zitoun. "The downside, however, is that sometimes we are obliged to put off new patients in view of the existing waiting times."
Strong demand for our expertise
The Bottrop practice for naturopathy is in demand as a "trailblazer" or source of inspiration, not merely with patients, but also with other naturopathic and complementary medical institutions.
Farid Zitoun and Christian Rüger have therefore become highly-regarded lecturers on a wide range of topics. To teach means to pass on, preserve and expand knowledge. This is more than just a teaching assignment for the two of them, Rüger reveals:
"An important goal is to advance medicine as a whole. Of course, this also means that we pass on the expertise and experience of naturopathy from traditional teachings, fed by science. This in turn helps ensure that the next generation of medical practitioners – whether alternative or conventional – can build on the fact that those seeking help are able to draw on a wealth of knowledge from both disciplines."
The possibilities that show added value can be wide-ranging. A good example here is the field of eye acupuncture, which is used as an accompanying or supplementary complementary methods of medical treatment.
The Naturheilzentrum Bottrop has recourse to a number of traditional therapy spectra whose essence is an established component of the nabomed concept® of the Bottrop complementary medical practitioners.
Naturopathy – standing firm against doubters
No change or development without doubters. Effective symbiosis rarely occurs without difficulties or obstacles or resistance – history shows this time and again.
Due to its progressive approach of combining naturopathy and conventional medicine, nabo faced criticism even before it was founded: Criticism of the Naturheilzentrum Bottrop! But what would progress be without critics?
Christian Rüger even sees this as confirming his approach:
"Throughout Human history, scholars who were ahead of their time have been denounced as false teachers. A few centuries ago, healers like us would probably have been burned at the stake.
If some People had their way, things would be no different today. We are OK with that, because we know that our approach can cause offence. That is exactly what we want, in order to set new impulses. Because at the end of the day, these can only be good for patients – and for Humankind as a whole. Even if it only leads to reappraising knowledge that was once firmly established."
Ultimately, the founders and their team are confident: The Naturheilzentrum Bottrop will continue to shake up the medical landscape in Germany for many years to come, caring for patients and their relatives and continuing to work towards a healthier day-to-day life.