news
Skin in harmony? The best naturopathy tips for healthy and beautiful skin in summer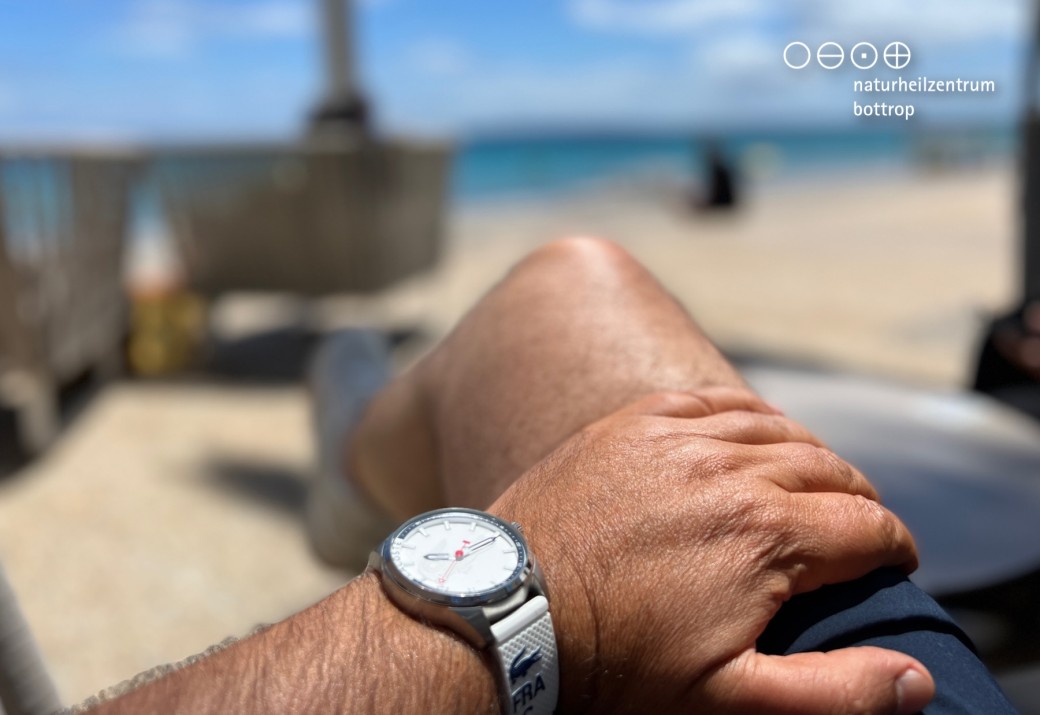 Whether on the beach under palm trees, in a sunny park or on the terrace at home: summer is here and our skin is longing for sun!
But the glorious summer weather can also have its downsides, especially for our largest organ. Too much sun and heat can dry out unprotected skin and also cause it massive damage. But don't worry, summer doesn't have to be a skin enemy! With the right know-how and some powerful helpers from nature, the sun remains our friend and yet you can help your skin to stay well-groomed in harmony with the summer heat and healthy.
Right diet: a key to radiant summer skin
It's not said for nothing that we are what we eat. Our diet plays a hugely important role in the health of our skin, especially in the summer. The skin needs very specific nutrients to protect itself from the harmful effects of the sun. Many of them are found in the daily food.
Skin-friendly foods often contain antioxidants that help fight free radicals – the main cause of skin damage and premature aging. Vitamins such as vitamins C and E strengthen the skin's immune system and support the production of collagen, a protein that gives our skin its firmness and elasticity. Omega-3 fatty acids, found in certain fish and nuts, reduce inflammation and keep the skin moist and supple.
But what foods are recommended to include in our diet plan to give the skin the best possible protection and care? The list of skin superstars from the Bottrop healers from the nabo, which you should definitely try this summer:
Citrus: Rich in vitamin C and antioxidants, help to tighten and brighten the skin.
Avocados: Provide vitamin E and healthy fats that nourish the skin from the inside.
Salmon: An excellent source of omega-3 fatty acids, which can reduce skin inflammation.
Almonds: Rich in vitamin E, which protects against sun damage.
Spinach: Contains many antioxidants and is rich in vitamins A and C.
Sweet potatoes: A great source of beta-carotene, which is converted into vitamin A in the skin and acts as a natural sunscreen.
Berries: Blueberries, strawberries, and raspberries are full of antioxidants that help the skin repair and regenerate itself.
Green tea: Contains polyphenols that can reduce inflammation and improve skin hydration.
By the way, even more about Powerbooster for the skin, which you should not disregard, can be found in NaBo magazine on the website of naturheilzentrum bottrop.
Escaping the dry environment: how plant extracts revitalize skin
Sometimes it feels like your skin is on an endless journey through the desert, constantly searching for a refreshing oasis. Dry, flaky skin can be a result of many factors, including genetic predisposition, environmental conditions, age and, of course, the summer heat. Too much sun can dry out the skin and cause it to look flaky and rough. In addition, skin diseases such as psoriasis and atopic dermatitis can further aggravate these symptoms.
Unfortunately, there are quite a few plant extracts that act as natural remedies and can help our skin retain moisture and strengthen its natural barrier. Aloe vera, for example, is also known to have moisturizing properties, soothe the skin and even have healing properties. Chamomile, for its anti-inflammatory properties. The plant is also proven to soothe irritated, dry skin. Calendula extract is another skin savior, which is used in the healing of dry, flaky skin.
There are conflicting study results about the effectiveness of evening primrose oil and borage oil in treating various skin conditions, especially atopic dermatitis and atopic dermatitis, so the Natural Healing Center advises against their use, as does the guideline for atopic dermatitis. Nevertheless, a recent randomized, double-blind, placebo-controlled study showed that the use of evening primrose oil in children and adolescents with mild atopic dermatitis significantly improved the EASI ("Eczema Area and Severity") score, with more pronounced effects in children younger than 12 years. This suggests that the use of plant extracts and oils in skin care can be of great benefit, especially for skin conditions associated with dryness. This shows how important it is to look at skin diseases such as neurodermatitis or psoriasis on an individual basis. Precisely for this reason, the team of therapists of the Bottrop naturopathic practice recommends before the application of plant extracts or oils on the skin in principle the consultation of a competent medical specialist or alternative practitioner to ensure that these are suitable for the specific skin type and condition.
Approach in the treatment of neurodermatitis and psoriasis: snake venom as a soothing balm?
The hard reality of patients with neurodermatitis as well as psoriasis (psoriasis) is not infrequently tormenting itching, which drives the concerning often up to "to the edge of the madness", one knows in the center for nature welfare procedures in Bottrop. Here one dedicates oneself among other things to these disease pictures with special attention for more than 30 years. For the Bottrop alternative practitioners Farid Zitoun and Christian Rüger, the complementary medicine approach goes beyond the typical symptom control: in the context of a holistic approach in conjunction with natural methods in the treatment – from nutrition to the analysis of possible environmental factors.
To be able to respond individually to each patient, the team of naturopaths relies on detailed and thus meaningful findings to narrow down the variety of potential triggers for skin diseases, but above all to treat cause-related. Each therapy varies from case to case. This can possibly lead to stress reduction up to immunotherapy.
An innovative approach in alternative medicine is here under certain circumstances the Snake venom therapy (or Snakemed, pure toxin or enzyme therapy). After profound diagnosis (detailed examination) accompanied by examination of previous findings as well as a correspondingly meaningful anamnesis, acupuncture, ointments or injections (syringes containing snake and other animal venoms) are mainly applied. Based on experience, the concept is based on strengthening the body's own defenses and is also intended to alleviate skin irritations, skin inflammations and any itching that may be present. The enzymes contained in animal venoms have proven their worth in medicine and research, for example in pain therapy and cardiovascular diseases. But as with any therapy, the same applies here: The one right way does not exist. The point is to find what brings the individual noticeable improvement and helps him to feel comfortable in his skin again – in the truest sense of the word.
Sunscreen is passé? You can eat sunscreen too!
Climate change is not only leading to higher temperatures, but also to more hours of sunshine and thus increased radiation, which increases the risk of skin cancer and promotes skin aging. The increase in registered sunshine hours in Germany is worrying. In 2022, the average sunshine hours for the whole year were already reached at the end of August. Warm weather and sunny conditions are leading to changes in recreational behavior and greater exposure to the sun. However, awareness of the risks of skin cancer from UV rays is still low.
The German Dermatological Society (DDG)is committed to these issues and has established its own working group on sustainability. From it come the following tips for sun protection:
Subscribe to the Newsletter of the German Federal Office for Radiation Protection (BfS) to get information on expected UV levels.
Refer to the UV index of the BfS to know which sun protection measures are required.
Check the current daily trends to know what UV levels are predicted.
Memorize the rule of thumb: the higher the UV index, the faster sunburn will occur on unprotected skin!
By the way, who says that sunscreen can only come from a tube? In their video the alternative practitioners Farid Zitoun and Christian Rüger from the Naturheilzentrum Bottrop show you how your body can achieve a natural sun protection factor by eating vegetables such as spinach, tomatoes and carrots. Carrot juice not only increases the immune system, but also promotes skin protection from the inside out. You will literally look at sunscreen in a whole new light in the future – promise! More on this with YouTube video in the post: Edible sunscreen – the sun protection factor belongs on the menu.
Tip from the naturopathic practice around the topics of health and lifestyle to go: With exciting news and interesting facts in the free and always current subscription of the nabo magazine.