newsletter
Naturheilzentrum Bottrop: this is what's changing in the New Year – the nabo newsletter
And the best thing is: nabo will remain habitually different
Dear Friends, Patients, and nabos,
With rapid steps, it's drawing ever closer – the festive period at Christmas and the ensuing turn of the year. It has been an eventful year that ends in less than three weeks. A year of big and little moments. Ones that touch you and the others that move you. It's hard to believe what happened with and around you. It was an exciting year for the world. One in which everyone has come across the most diverse Human beings, right? With some People you laughed, with others you perhaps cried.
Many have told us their stories – of People who are simply there for others. People who accept you with open arms, with whom you can see eye-to-eye, who are supportive, and who gladly offer a shoulder when needed – to lean on, to rest on, or to cry on. Just honest People like ourselves, who combine values with something very precious: friendship, togetherness, and security. Something that so many want for themselves.
We had a nice experience at Naturheilzentrum Bottrop one day. A gentleman in his mid-60s said, "You know, I'm a man of the 'old school' and I so look forward to meeting People who still know what that means. It really does me good." His words showed how strong and modern a good old-school style can be. Perhaps, right now at this reflective time, our encounter will encourage readers of this newsletter to think about values such as respect, mindfulness, and honesty, or maybe just thank someone. We say 'thank you' for the many encounters we have had with unique People. And for genuine feelings and togetherness.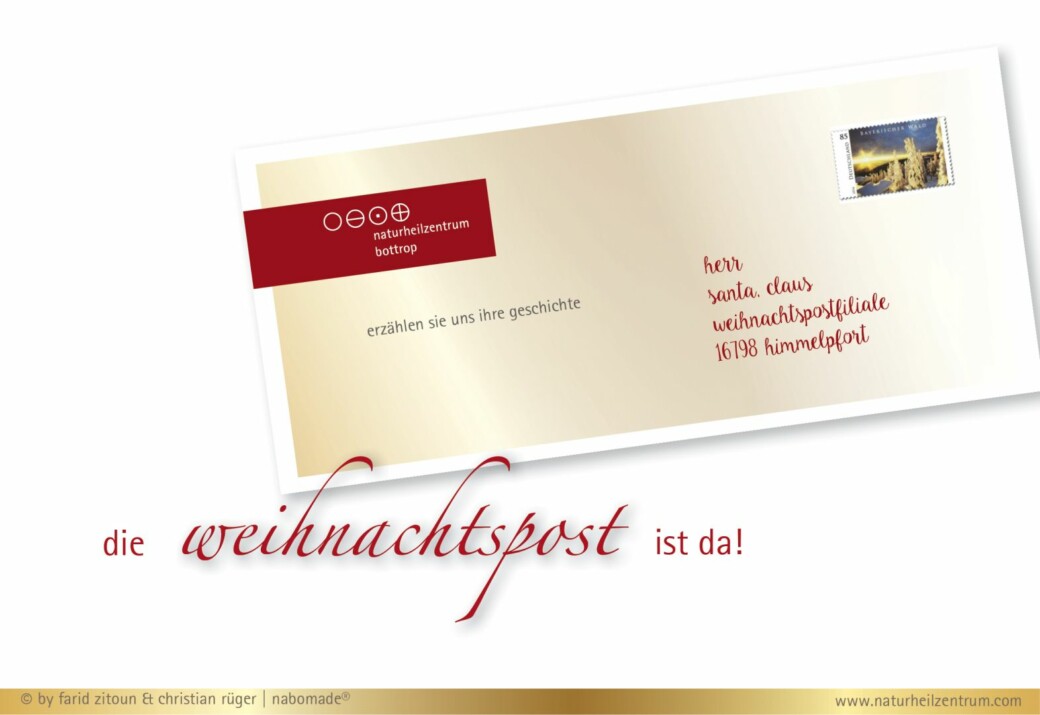 Already looked into the mailbox today? There is still some good news with the post
The look into the mailbox is full of anticipation when you know that it still exists: the good news that comes with the post. No matter whether it arrives in digital form or in the actual post box. The main thing is that it's Personal and comes from the heart. As we have found, news from a good friend, a family member or someone who lives far away, gives the day a loving, but above all, a very special touch. Nowadays, such a thing is a real treasure, which you can gladly pick up again, days later. It shows the addressee: you are important to me. I sat down and wrote you these lines, selected the envelope and the right stamp for you. And took your letter to the post office. Such mindfulness also applies to the nabo Christmas post. A Personal appreciation for the People who are in our hearts.
TV project – the nabo one shot | You have to see it
It is not always the big gestures which bring light and splendor into our lives. Which conjure up a smile on our faces. The nice gentleman in front of us in the supermarket managed to do that, when he held the door open for us as a matter of course. Out of politeness, so we did not have to put down our heavy bags once again. Thanks for that. Or the friendly service in the restaurant in Stockholm. The waitress made the cumbersome city map superfluous and explained the way into the historic quarter to us without much fuss. Thanks for that too. Respect for others, mindfulness, and compassion. These are values ​​that often do not come to the fore. Values ​​that are, however, important for us all. To be habitually different once again – perhaps also to polarize others with this. But one thing is certain: it spurs us onward. To capture this theme in a film project, to communicate it to an outside audience, and share it in a special message. And that is how a great video, using a one-shot production, came into existence. By the way, we strongly recommend that you also take a look at the "making-of" video in collaboration with Center TV Düsseldorf. We hope you enjoy it!
View the nabo youtube channel here
Lifestyle & health: the nabo-blog – click, subscribe, write it down
Are you aware of the nabo health blog yet? Do not miss it! Because here you will find current news and recommended trends centered around topics such as a healthy lifestyle, and how to lead a healthier and more conscious life. It includes a lot of information that you should know, reports of Personal experiences, and exciting tips from the naturopathic practice of tomorrow. The Bottrop-based health facility promises pure reading pleasure. There are also guest contributions that are well worth reading. nabo blogs! Are you with us? Here's to an active exchange of ideas with us!
Who among you has earned a smoothie? Surprise your loved ones with our very special recipe tip
Christmas goose, dumplings and red cabbage are a tradition for many of us. As are Christmas cookies, which smell so wonderfully of cinnamon and marzipan that few can resist them. But there is another approach. As a surprise, how about starting this year with a vegan smoothie that is suitable for the festive period? One with a touch of wintery spice, from varieties of fruits which are currently in peak season with us. In addition, it is a delicious, vitamin-rich health kick.
Recipe 
Nabomade® Christmas smoothie:
1 ripe pear
1 apple
1 banana
2 juicy oranges
A squeeze of lime juice
A pinch of cinnamon
Wash, peel, core, and cut the fruit into small pieces. Squeeze the oranges, mix the juice with a pinch of cinnamon and put everything together in a blender. Blend thoroughly and serve slightly chilled. In this case, you can also drink one for us!
Incidentally, you can find out more about vitamins & co. in the Naturheilzentrum Bottrop news section.
Experiencing togetherness is the shortest way of connecting People
A warm and hearty welcome from us
© Farid Zitoun & Christian Rüger
Photo design:
Pictures 1 – 4: Sonja Hagen | SH Design | Elsdorf near Cologne | Germany
Picture 5: Andreas Werntges | Werntges Studios | Gladbeck | Germany
Please note the terms of use