newsletter
Unspoiled whiteness and a place for you right in the middle of it
Naturheilzentrum Bottrop in December 2017
Dear Friends,
Patients,
and nabos,
Along with these lines, we have gathered together some cozy, comforting, clarifying, welcoming, giftable and, of course, healthy information for you. Whether it's an insight into our everyday practice, a few thoughts on the crazy world of the Internet, health tips from our blog and YouTube channel or some advice on gift vouchers – we'll spoil you with our knowledge and we're delighted to be able to conjure up a smile on your faces. It's nice to welcome you today as readers!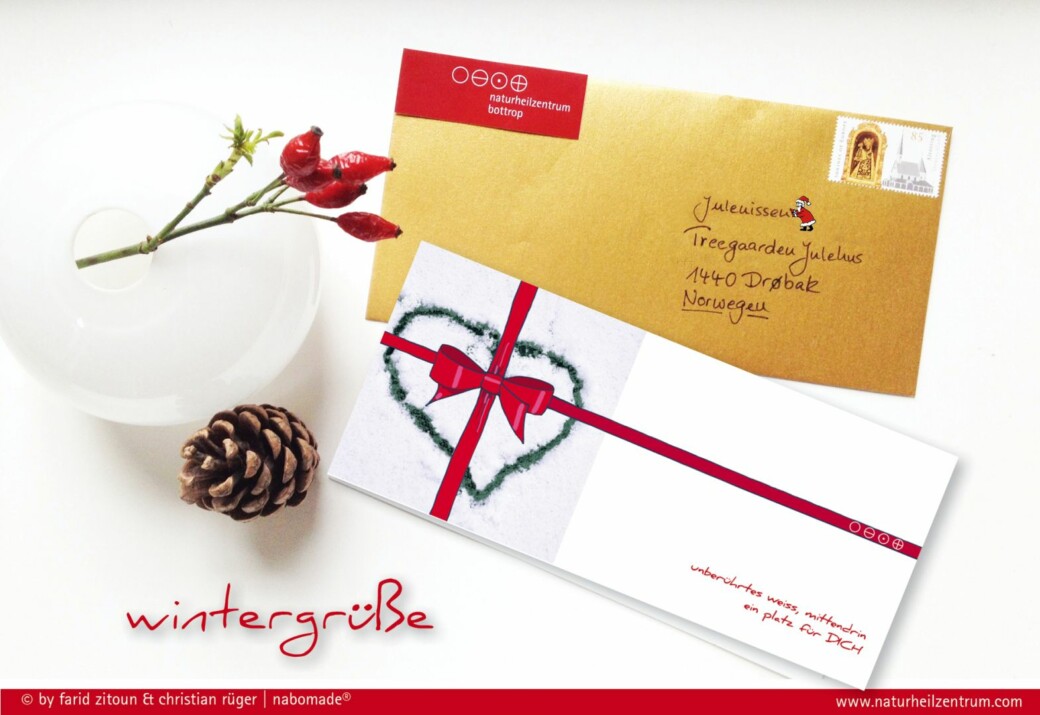 White winter greetings & health by post
The climate is changing. Summers are getting hotter, rainfall heavier. Climatologists are convinced of this. However, the experts are not yet in agreement as to whether there will be more or less snow on the horizon in the future. But no matter what kind of weather December has in store for us all, one thing is certain: this year, the nabo team will be making a contribution to a white Christmas. We'll be gifting and sending white winter greetings in the Christmas post, wishing you an atmospheric, festive Advent season and, above all, good health – but not just for the new year.
Those who know us will be aware that friendship is important to us.
Many People do not experience warming hugs in everyday life. We attach great importance to closeness and familiar openness at Naturheilzentrum Bottrop. Today, we send you a kiss! Not kissing that you know from advertising, but a kiss for good friends.
A family-like approach and a harmonious relationship are important to us in the care of our patients. Especially with People who have illnesses that may require close attention. This is an important aspect of the holistic collaboration that we have experienced – whether it's in the field of pediatrics or the treatment of People with traumatic brain injuries.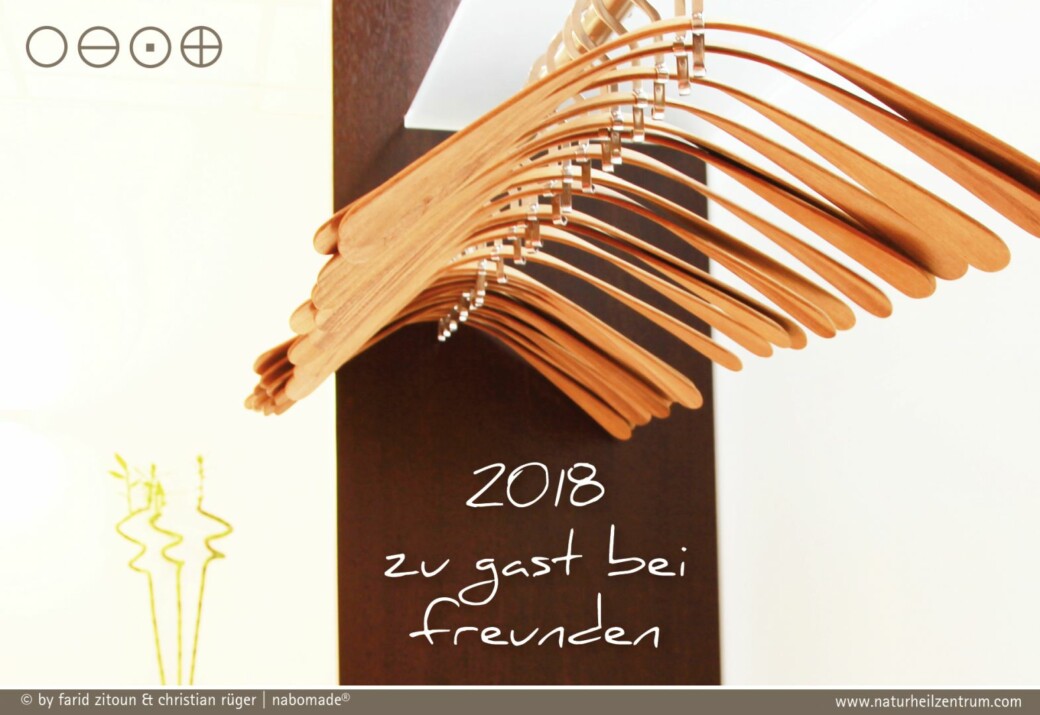 Trend
Social cocooning or brand new "hygge" (danish for "coziness") is the name given to the trend of returning to a smaller purview or neighborhood. The security of a private and sympathetic immediate environment tempts you – in contrast to the complex world we inhabit. The familiar rooms, balcony or garden are very lovingly furnished and decorated. Neighbors and friends come over for joint cooking events. Games evenings are becoming ever more popular.
Welcome
On the one hand, we think that this trend great, but on the other, it makes one or more of us at Naturheilzentrum Bottrop smile – because "hygge" was introduced here more than 20 years ago under the name "nabo". And it is somehow much more than just a trend. Warm room colors, natural materials, soft lighting and a relaxing cup of tea – hygge was and is therefore not a trend for you and us here in Bottrop, but the beginning of a successful medical collaboration.
Relaxation
Warmth is not only important for the psyche. It also plays an essential role in curative treatment. Thermotherapy is one of the oldest medical procedures and is used in both conventional and alternative medicine. It is also part of the official guiding principles of medical associations such as the German Society for Orthopedics. http://www.awmf.org/leitlinien/detail/ll/033-048.html
Treatment
'Healing warmth' has positive effects on muscle tension, circulatory problems or the elasticity of connective tissue. We use medical heat treatment for disorders of the musculoskeletal system such as neck pain, chronic back problems or joint problems. We use 'Kneipp wrapping' as a combination of heat and water therapy (hydrotherapy). The reflex zones of the skin pass on the stimuli to the organs. The metabolism of the organs is activated and the autonomic nervous system is supported.
Hugs
That's why you now feel warmly 'embraced' by us. It also warms you up and is therefore good for your health, especially in the cold season. Or just let a kiss be pressed against your cheeks.
Are you already living in a filter bubble?
The internet allows us to retrieve content according to our wishes. As a result, we increasingly stew in our own juices and come into far less contact with new topics and other opinions. Or so they say, but is that true?
Online newspapers are compiled according to your own wishes, social networks are sorted into posts that are based on the supposed interests of the user, surfing and purchasing behavior is analyzed, and corresponding recommendations are displayed. At first glance, it seems as though we do actually only move in a bubble of our own interests when we are on the Internet.
Filter bubbles are interests
But how was it in the past? Back then, we subscribed to the newspaper which came closest to our preferences with their articles. We only read the contributions that seemed most exciting to us. We had a circle of friends who shared our hobbies and opinions. And we carefully decided who we took to the bowling club, so that sporting fun did not regularly turn into a challenge.
Encounters expand the horizon
Real filter bubbles are just as rare today as they used to be. In the past, we encountered different opinions and convictions through demonstrations, in the sports club, in the pub or on TV. Today, social media has been added to the mix, but the principle is the same. We go where it pleases us, and are tolerant and curious about why someone else ticks differently than we do.
Inspired by 
People
A diverse, pluralistic and, at the same time, peaceful society is of great value, which we very much appreciate at Naturheilzentrum Bottrop. We encounter many different characters every day. A different perspective, a way of dealing with challenges, a new way of achieving goals – it is one of the nicest gifts at nabo (short for: Naturheilzentrum Bottrop). The fact that everyone can learn from one another at any time, especially in moments of spiritual and physical difficulty.
Health – alternative sought?
Maybe you also have moments in which you long for a change of direction, wish to leave the treadmill, and forge a new path to conquer what's on the horizon. We know such thoughts from our everyday practice. The life situation of many patients, who have trusted us for years, has always been very special and full of countless questions. Take the chance to step out of your own Personal filter bubble. Clarify your individual questions, call them up. The nicest thing about it is that it's very easy to do.
Do you sleep well?
Did you know that the way we sleep has a big impact on our health? We'll give you tips that we have at hand for restful and healthy sleep, and we have traveled to a very special place in the Ruhr area to be able to do so. You can look forward to seeing what great props the nabo team has brought to light this time. Allow yourself to be surprised on the Naturheilzentrum Bottrop YouTube channel.
From 
Human

ity, trust & fairness – everyone has something that drives them

This year, the Volksbank created an authentic film about values ​​in everyday life. "What drives you?" asked the Volksbank, and Farid Zitoun answered: "Fairness and a trusting relationship with People is ultimately what brings satisfaction, success and a good life." If you want to know more, watch the video about community and openness here:
You should therefore go forest bathing – shinrin-yoku
Have you already subscribed to our YouTube channel? It's really worth it. Health tips, concise and compact from Personal experience, and naturally spiced with a dash of humor. The latest video about the traditional Japanese preventative healthcare measure, shinrin-yoku, is now online. The term means "bathing in the forest air". Farid Zitoun and Christian Rüger reveal how it works in their December video, and why it can be very good for your health. Our dear Annette Rinkewitz has given her all for the wonderful costumes and props, and conjured up something that is well worth seeing.
Throwback Thursday
The term 'Throwback Thursday' was coined by African Americans in the United States, who met up on Thursdays to remember the past. Sometimes, they thought nostalgically of their old homeland and revived traditions. On another occasion, they reminded their children of how hard the past had been in order for them to appreciate the present once again. Social media like Instagram and Facebook have taken up the trend. Photos of the past are posted under the keywords 'Throwback Thursday'. We're also giving you the opportunity to look back together with us today. As an example, we have selected an article from the news archive that is well worth reading: "Current news from Naturheilzentrum Bottrop: Alternative medicine in neuro-rehabilitation". This article is as relevant as it was when it was published and deals with the impact of a skull-brain injury. The treatment of speech and swallowing disorders forms part of this because the consequences are often manifold. Physio & ergotherapists as well as speech therapists work together with those affected to alleviate adverse effects. But naturopathic methods can also be effective and very helpful. Feel free to read.
Have you ever given the gift of health? Here's a last-minute Christmas present!
Has someone in the family been in pain for a long time, but nobody can find a cause? Maybe your best friend has stress symptoms and could use some encouragement to give her life more balance? Or is there someone very close to you, whom you want to do something especially nice for?
How about you give them an extraordinary Christmas present this year? Give health! Treatment for more vitality, an alternative medical consultation, or a wholly unique health check-up – the corresponding voucher for your loved one comes in three designs here.
A healthy and thoughtful gift for the advent season
© Farid Zitoun & Christian Rüger – #nabomade®
Photos:
Picture: Sonja Hagen | SH Design | Elsdorf near Cologne | Germany
Please note the terms of use